Flat Roof Leaks and Failures: How to Prevent Them
We were contacted recently by one of our Main Contractor Clients about a failing flat roof they were looking at, so we arranged a survey. Here's what we found.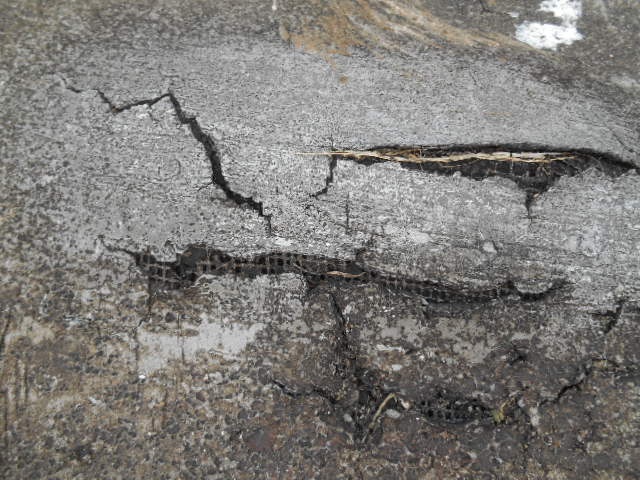 The existing asphalt waterproofing appears to have had its working life significantly shortened by lack of care and poor design. The asphalt is age hardened and brittle, and as a result thermal and structural movement have led to splits and cracks, allowing water penetration.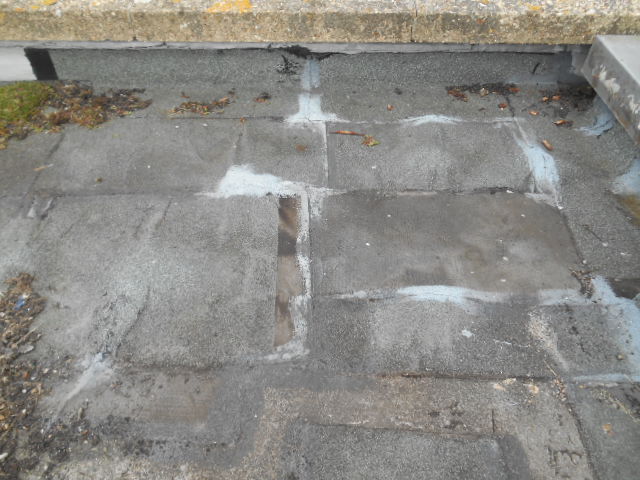 The roof had then been repaired using additional pieces of bituminous cap sheet, and with liquid treatments. These repairs had failed, partly due to the already perilous state of the existing waterproofing.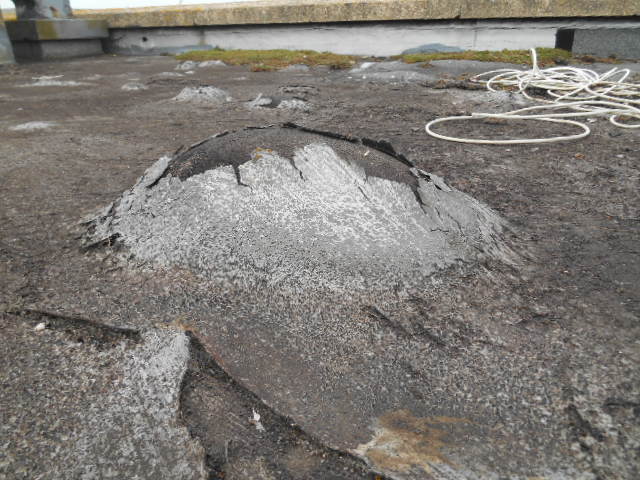 Large blisters had appeared in the waterproofing: evidence of trapped air and moisture. There are also large areas of ponding water; in some locations there were blisters in the ponds!
Ponding water causes several problems, including temperature variations between the ponds and adjoining dry areas, and freeze/thaw cycles in winter. A pond of water will also produce much more damage inside the building if the water penetrates the membrane.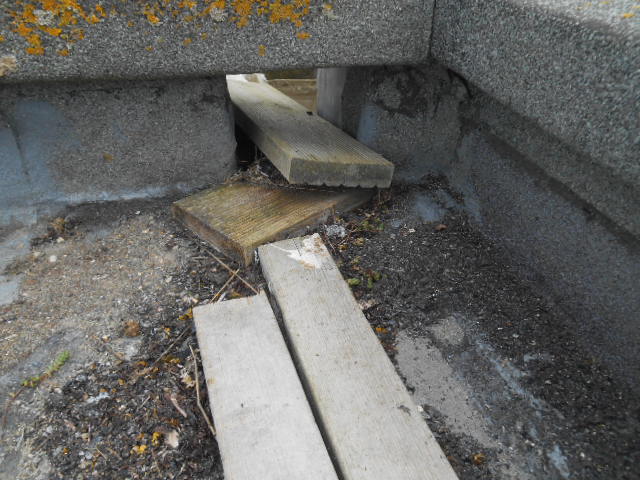 Outlets in the parapet to allow water to leave the roof were blocked with debris (including large pieces of timber) and silt, which had built up for so long that plants were growing in it. Despite the roof not being designed as a "Green" roof it's doing a pretty good impersonation of one.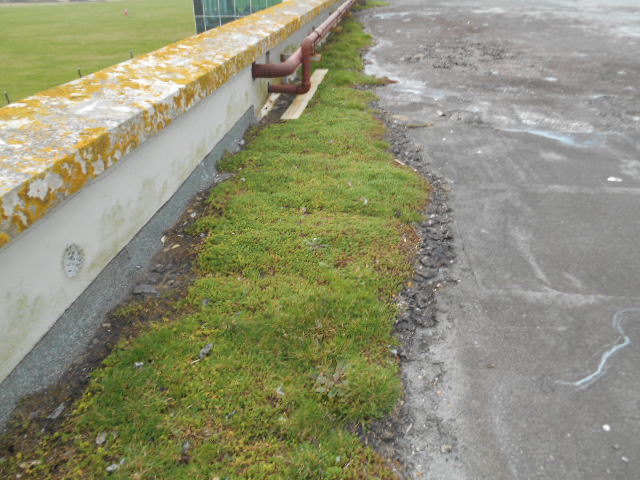 Upstand details around the vent units and rooflights were in poor condition, with evidence of slumping, blistering and damage. The parapet walls were also in poor condition, and their DPC membranes had failed.
The Horror Story
This roof has certainly been neglected; in fact it has been ignored. This doesn't only have implications for water ingress, but also for health and safety. If the roof isn't being maintained, maintenance of the roof-mounted plant is more hazardous.
It's a pretty horrific sight. No wonder the roof had failed, and no wonder thousands of pounds of damage had been caused to the building beneath. The roof was in such a poor state that rather than consideration being given to an over cover, our proposal had to be for a full strip off and start again. Along with the costly damage already caused, this comprehensive re-roofing will also cost the client around three times more than an over cover solution.
This roof has been badly designed, mistreated and abandoned, and has come back to bite its owner. But could this situation have been avoided? Most definitely.
How to Prevent Flat Roof Leaks
1. Planned, Proactive Maintenance
Out of sight, out of mind, but only for a while. A roof denied an occasional inspection is storing up bigger problems for later. If you don't have a good maintenance regime in place, you'll see a dramatic acceleration in the aging of the whole roof installation. This will bring about completely unnecessary and onerous costs.
Ensure your roof is provided with a proper programme of inspection and maintenance.
A poorly maintained roof will also put your staff at risk of accidents. Make sure that fall protection is installed at the perimeters and make a full risk assessment of the roof hazards to protect those who will inspect your roof. Ice during winter and debris / slime build up are hazards which can be and should be avoided.
2. Good Design
Maintenance is extremely important for all roofs, but maintenance programmes can be simpler and less onerous if the roof is properly designed to begin with.
For example, there is a tendency to design flat roofs to minimums. Minimum falls, minimum upstands. But minimums are exactly what they state "Minimums"; rather than a "try to achieve" figure. Many designers see minimums as an annoyance which causes difficulties with threshold interfaces or parapet heights, but designing a roof to minimums or even less will inevitably lead to a need for more regular inspections and maintenance.
Designers should feel free to design at more than the minimum. They should design for a realistic, reasonable maintenance regime. And don't be under the illusion that 'Flat Roofs' are flat. They are not.
3. Appropriate Repair or Replacement
No roof lasts forever, but a well designed, well maintained roof can give a full life of service. Some of our flat roof products have been successfully protecting roofs for over 50 years.
On occasion, incidents such as falling debris, high wind or storm damage will need remedial treatment, and this needs to be undertaken using the correct materials suitable for the roof finish, properly prepared and applied by trained professionals.
A good inspection regime will also save you money at the end of the roof lifespan, because if your roof has been regularly inspected, the options for repair or replacement when it reaches the end of its working life will be less costly.
More Information
Alongside our product partners, and with our team of site inspectors, we inspect thousands of flat roofs every year, so there's little we haven't seen on a flat roof.
Read more about roof maintenance issues in our Guarantees section.
Our complete and impartial design service extends to the refurbishment and replacement of flat roofs. We also provide a complete assessment and recommendation service to reduce the risks of working at height.
Our DATAC accredited contractor members also have full access to support from the technical and commercial team pre tender, during installation and on completion, including assistance with site surveys, wind uplift, thermal and acoustic calculations, design of tapered insulation schemes, maintenance and aftercare. Read more about DATAC here.
If you come across your own horror story, or need some advice about a new or existing flat roof design, get in touch with us.
In the meantime, why not share your flat roof horror story pictures with us on Twitter? We're using the hashtag #flatroof.