Flat Roof Insulation – The biggest cost
We spoke to Christa Coe, Specification Manager at SIG Design and Technology, about insulation, why it is important, and some things to remember.
When you're designing a flat roof, cost is often a major factor, and you may think that the membrane, given that it must withstand all weathers, would be the costliest element. However, insulation is by far the costliest material in a flat roof – as much as 50% of the material cost in some cases, or even higher if tapered schemes are involved. If you're concerned about the cost of your flat roof, it is important to get the insulation right.
As the leading distributor of building products in Europe, SIG has access to a full range of flat roof insulation products through its supply chain. When coupled with SIG Design and Technology's expert product selection, design and support services, specifying a flat roof with SIG D&T couldn't be easier or more reliable. We can help you choose the right flat roof insulation products, ensure they are integrated into the design, and the roofs we design are also inspected and guaranteed through our system.
Scroll down to the bottom of this post to find out more, but in the meantime, here are Christa's insulation tips for a cost efficient flat roof design.
1. Make sure you're specifying to the right U-Value
Because the cost of insulation is considerable, ensure that you know the required U-value of the roof you're designing. Most roofs you'll be designing will be warm roofs, and it may be sensible to use one type of insulation or a combination, for both convenience and cost. But the starting point will always be to determine the required U-value, so that you can design to it. That way you won't be including too much insulation, for example, which will increase the cost, or too little, which will mean you miss your target U-value and need to retro-fit or redesign.
2. Make sure you design to control condensation
In warm roofs, a vapour control layer (VCL) is used to check the flow of water vapour through the construction. In addition to a U-value calculation, you'll require an interstitial condensation risk analysis. This includes a dew-point calculation which looks at seasonal changes, ensuring the design will ensure there is no build up of condensation throughout the year. If SIG Design and Technology design your flat roof for you, these calculations will be provided as part of the service.
3. Flat Roof Insulation: Bonded or Mechanically Fixed?
Will your roofing elements be bonded to each other with adhesive or mechanically fixed? Bonded schemes are usually used on smaller projects or where there is a low wind load, mechanical fixing is often used on larger projects or those where wind load is an issue.  We'll carry out a wind load calculation for you, but there may be other factors influencing your decision, such as the type of insulation.
4. Foil Faced or Tissue Faced?
Generally, foil faced insulation board will produce a better U-value than tissue faced board of the same thickness – as much as 8-10% depth saving. For example, for a U-value of 0.18W/m2K, you could use 130mm tissue faced insulation board, but for the same U-value you may need only 120mm of some foil faced insulation boards. If you need to bond the membrane you generally need tissue faced, however IKO now make a foil faced insulation board which can be bonded to both membrane and VCL. Talk to us about the right products for your project.
5. If you run out of depth in your flat roof
Technical Director Steve Cleminson recently wrote a very popular article about how designers might run out of space for their flat roof upstands. His advice was, don't leave the flat roof too late – whilst there are alternative products available, they are more costly both from a material point of view but sometimes also from an installation point of view.
If a saving of switching from tissue-faced to foil faced insulation doesn't produce enough reduction in depth, you might want to look at a more specialist product.
For example, Kingspan make a board called Optim-R which is vacuum formed and sealed, giving it a lower U-value than conventional insulation boards. Optim-R is very popular on balconies, for example, where height is at a premium. However, not only does the technology make it more costly than conventional boards, it also cannot be cut, so infill boards must be purchased and installed if you have oddly shaped areas to fill.
Make sure you start on the design of your flat roof early, so that the use of such specialist materials is limited and only where absolutely necessary – this will keep costs down.
6. Keeping the costs down on curved roofs
If areas of your roof are curved, that is, they have a varying pitch, you may think that conventional insulation boards would not be suitable. However, some insulation boards can be scored in the factory to produce 'lamella boards' which will accept a curvature. It would be normal to apply such insulation in two layers, for example 2x60mm to produce and insulation depth of 120mm. You can always talk to us about the options.
7. Make sure you don't cut corners (or have your corners cut for you)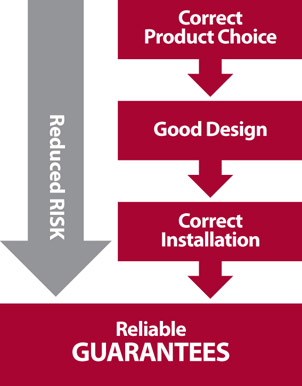 Whenever considering cost effectiveness, it is always essential not to cut corners. As roof designers who are often asked to sort out failing roofs designed by others, we come across the same specification and installation issues again and again, and many of these issues are created by wanting to save money.
Common examples of cost cutting which have resulted in a drop in performance or even roof failure, include
tapered insulation schemes where areas of the roof don't have enough insulation,
failure to install the roof as specified (including examples such as leaving out the VCL) and
the use of the wrong fasteners – this is very common. On a mechanically fixed roof, using metal rather than thermally broken fasteners could impair the U-value of the roof by as much as 10%.
It is essential that cost reduction doesn't affect the integrity of the design nor the performance of your flat roof. This is why SIG Design and Technology developed a holistic approach to roof design – to ensure that the best results are delivered every time. The approach covers correct product choice, good design, correct installation and leads to genuine, long guarantees you can rely on.
You can find out more about our service here. Or if you're ready to talk to us, just get in touch using the contact form or email. We'll take the risk out of roof design.