Electronic Leak Detection for Roofs – Advice for Architects
We speak with Paul Hoveman, Managing Director of Buckleys (UVRAL) Ltd about their leak detection equipment and his advice for architects.
Buckley's is an interesting company. Originally set up in 1926, they have specialised in testing and inspection equipment since the early '60s, much of it used in the petrochemical industry, but also in hospitals, for equipment used in keyhole surgery. They've been producing electronic leak detection equipment for roofs since 1990, where they are applying their considerable technical expertise to a subject that has been a challenge for architects for over a century.
What types of Leak Detection Equipment are Available?
Buckley's make two types of electronic leak detection equipment, which represent the best technologies available for leak detection in roofs; the Dry Test System and the Wet Test (also known as Vector Mapping or Earth Leakage) System. Both work by testing the insulative qualities, in that we are looking for breaches/mechanical damage of the membrane against conductive qualities of another element, either water or foil faced insulation board.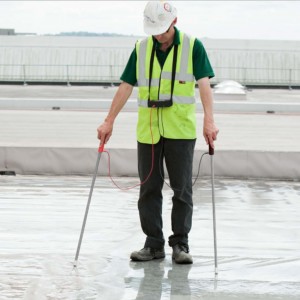 The Wet Roof system is a low voltage system, with Buckleys version developed in 2008 and is used worldwide. Wet Roof testing requires the roof surface to be soaking wet, as transmission of electricity through the water in the leak source provides the signal that there is a leak. The operator surrounds the area to be tested with a trace wire and uses two electrodes and a pulse generator to send an electrical pulse through the roof surface. Like detecting the ripples from a pebble thrown into a pool, a direction finder then directs the operator towards the fault in the surface that is producing the leak.
The Dry Roof System has been in use since the 1990s and uses high voltage; here the roof surface must be completely dry as the system uses the high voltage to jump in air and identify the fault. After setting up the test area, the operator sweeps an electrode over the roof and an audible and visible alarm is triggered, pointing directly to where the breach/damage has occurred.
What Roof Materials work with Wet and Dry Leak Detection Equipment?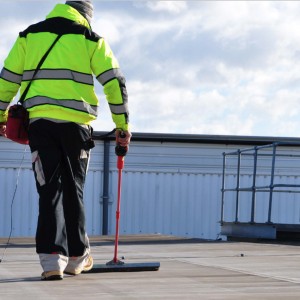 This wet and dry roof detection equipment depends on the 'dielectric strength' of the membrane they are testing.
They work well on
They aren't suitable for EPDM roofs as EPDM conventionally contains a large amount of carbon, which makes it a poor insulator. White EPDM does not contain so much carbon and therefore may be suitable for leak detection. Buckley's have a growing library of materials that have been tested for use with their equipment. Get in touch with us if you have any questions about a particular roof build up.
Leak Detection – Advice for Architects
There are three situations in which architects will need to deal with leaks in flat roofs.
Specifying the testing of an installation;
A new leak discovery;
Advising on an old leaking roof.
Specifying Leak Detection in Flat Roofs
If you are specifying electronic roof detection for a roof you are designing, be aware that the circumstances in which the roof is tested will determine the effectiveness of the test. Dry testing can be carried out as soon as a roof is laid, but if wet testing is to be used, it will only detect leaks once some weathering has occurred, so that water is able to permeate through any leaks, and the roof must have a totally wet surface. If you're working with us on the design of your roof we will advise on the correct wording to use in your specification.
Testing an existing roof for leaks
If your client presents you with a building with a leaky flat roof, or if a leak develops in a roof with which you are involved, there are some key questions to answer. Where is the water getting in? Is it a small leak that can be repaired, or are there several leaks, in which case would it be more effective to either over-roof or re-roof the building?
Electronic leak detection is an aid the answering these questions and informing decisions about which is the most cost effective approach to deal with the leak. Independent roofing survey companies can provide roofing detection advice, manufacturers may provide this service, and some roof installers will carry out surveys as part of a repair service. However in any case it is essential that the operators are properly trained and use the equipment properly, and in the right weather conditions. For dry testing, you need the surface to be completely dry, and an early coating of dew in the spring, or moist autumn or winter conditions can preclude dry testing unless there is a good dry wind to clear any moisture. Conversely in wet testing the surfaces to be tested must be completely wet.
Like any manufacturer of a quality product, Paul is keen that his equipment is used properly. Buckley's provide training as part of their service to all purchasers of their equipment, and the company is working with both SPRA and NFRC (of which they are members) to help develop guidelines for and improve the training in leakage testing. "This can only improve the credibility of the industry, and everyone will benefit," he says.
More Information
If you're involved in a situation where you need to evaluate a roof contact us for the right approach for your circumstances.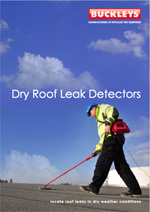 Got a question about electronic leak detection for roofs? Why not ask it in the comments below and we can share the answer with everyone.