Designing for the Education Estate: Education Seminar Review and Recording
Last week we had the pleasure of attending and speaking at the third Architecture Today Education Seminar which was entitled,  "Designing Education Buildings to support long-term Estate Strategies".
The event, as always was free to attend, but this year was virtual. It featured three speakers, ably chaired by Ruth Slavid as always, who facilitated an excellent Q&A session at the end of presentations.
The focus of this seminar was focused on the longer term management of the education estate, be it primary and secondary schools or further education colleges and universities, and the three speakers all contributed by looking at examples of how they had helped clients take a longer term view towards the management of their built assets.
The University Estate: Stephen Smith, Wright & Wright Architects
Stephen Smith, Partner at Wright & Wright Architects began the session with a look at some of their work for university clients and stressed the the importance of first looking at adapting and supporting existing buildings before looking at creating new ones.
Smith used the example of their long term relationship with the Architectural Association to illustrate how this work focuses very much not just on the buildings but the spaces in between them, carving out new spaces in buildings that are none the less predominantly Grade I listed.
He took the example of Magdalen College, Oxford as a client that was willing to take some radical steps in spite of the constraints of listed property so as to make the most of the existing estate. Taking a client along with you is key to achieving the best with their buildings. At Magdalen, Wright & Wright redesigned the Magdalen College School and landscaped its quadrangle, integrating both with a new reading room.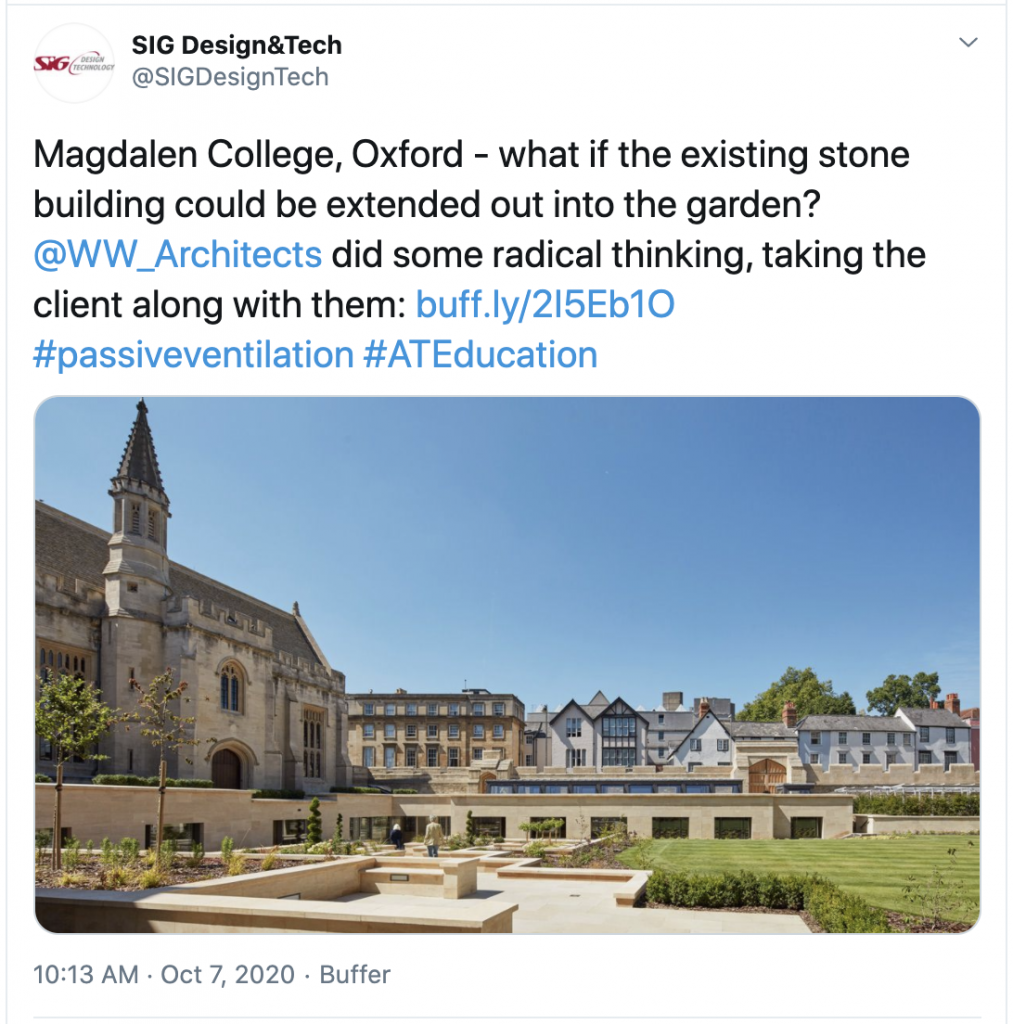 Smith's radical approach was not purely spatial and aethetic but also incorporated novel ideas for ventilation, improving the sustainability of the Longwall Library at Magdalen by introducing passive ventilation into the historic structure. The project won a 2017 RIBA National Award.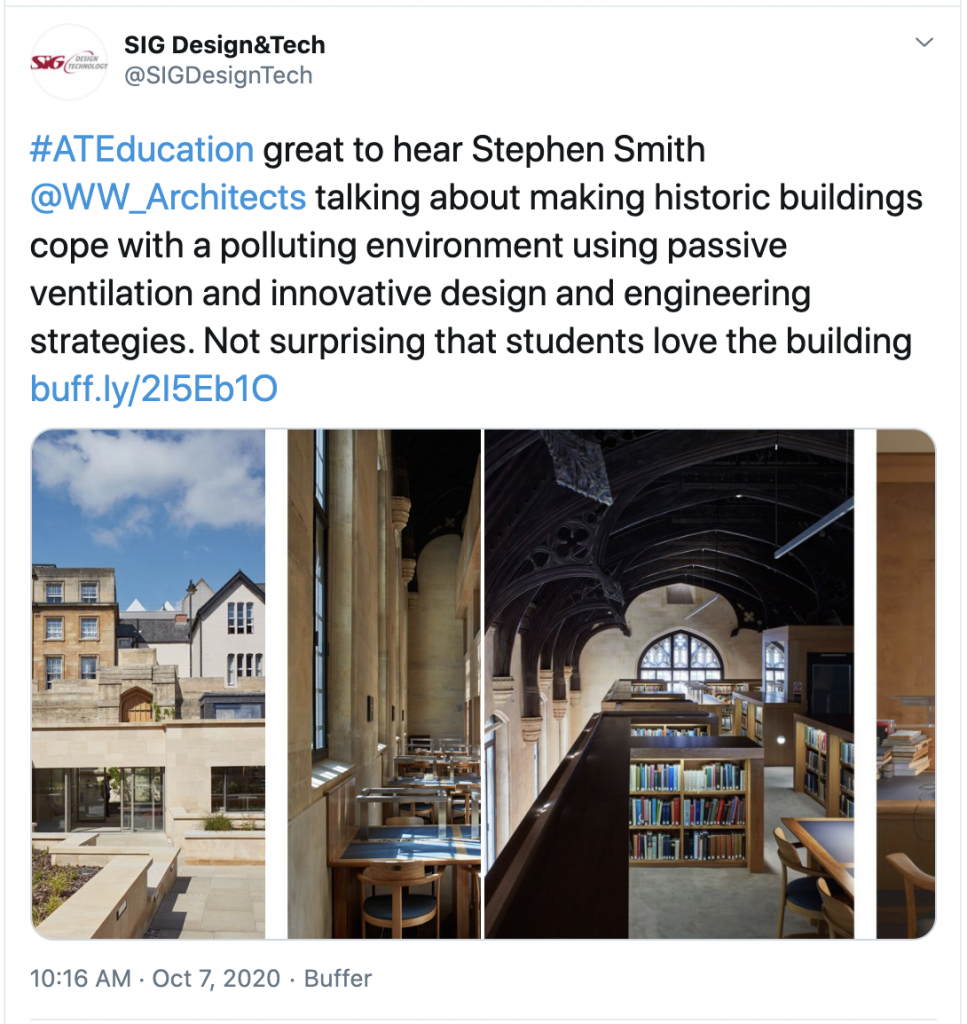 Wright & Wright's approach to sustainability is practical and deep, involving a process of analysing not simply the environmental requirements but how new elements and solutions can be knitted into historic fabric, providing the client with a secure future for their buildings. Smith ended his presentation with a question – "what is the next frontier for education a buildings?". He contends that Passivhaus provides part of the solution, but his answer involved engaging with new graduates and assistant employees to provide real depth to the practice answer.
Looking after Crumbling School buildings: Ian Dryden, SIG Design and Technology
Ian Dryden, National Specification Manager for Bituminous Membranes at SIG Design and Technology, discussed the experiences of many years working with schools and Multi-Academy Trusts (MAT) on developing a realistic and ultimately commercially logical approach to maintaining and replacing school roofs.
Many schools were built or extended in the 1970s and 1980s and these have flat roofs which are nearing the end of their natural life. Ian works with our teams at SIG Design and Technology to help Academies and MATs obtain Condition Improvement Fund (CIF) funding and School Condition Allocation (SCA) for repairs.
Ian explained how many MATs and academies are not looked after by estates professionals, but rather they tend to be former teachers or caretakers of buildings with little or know asset management or technical experience.  As a result they tend to be reactive with maintenance issues, turning to the Yellow Pages or equivalent for local builders and a short-term fix. Ian explained how a professional support network can help them win funding and think long term.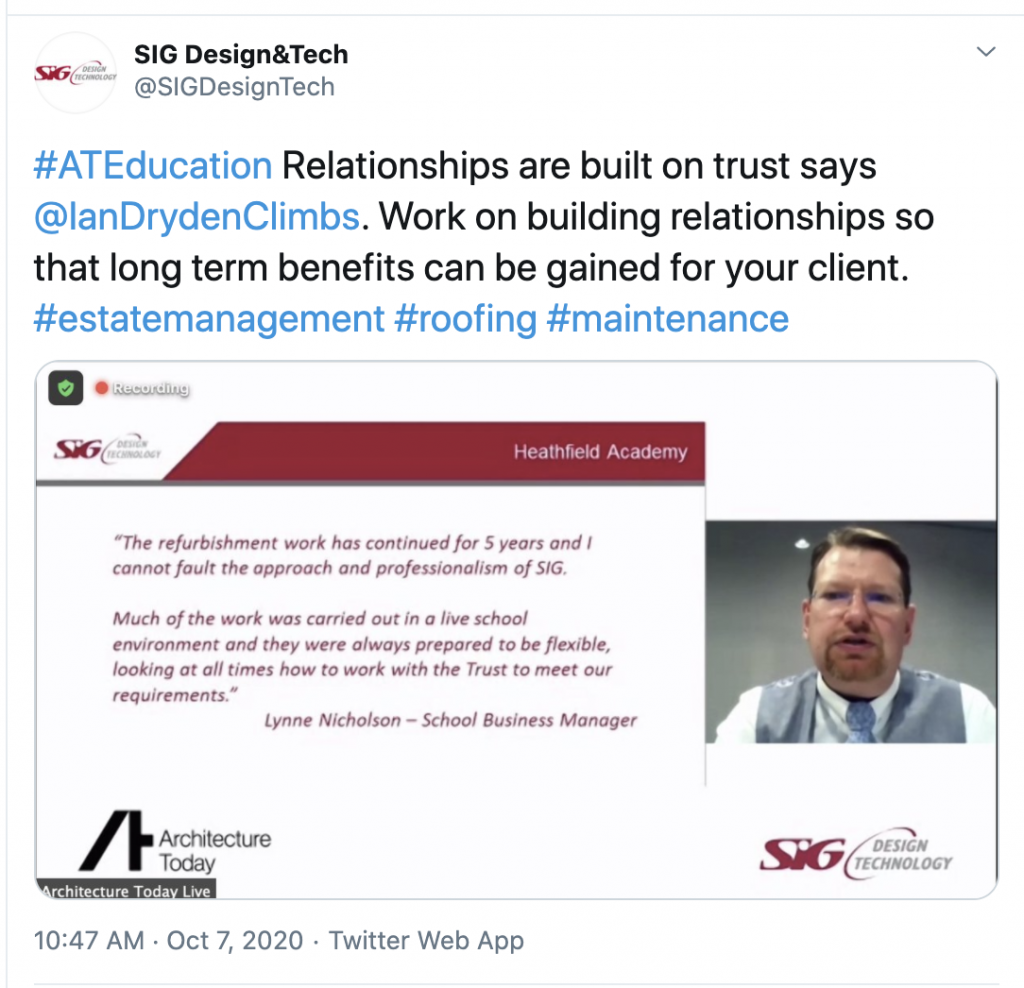 Ian's argument was illustrated with a journey through the five year, four-phase programme of an academy's roof refurbishment programme. His story shows how by setting priorities and planning ahead, the school would able to save at least £350,000 in ten years. The figures (illustrated below) are gained by comparing reactive to planned costs and don't include ongoing costs or damage to equipment which roof failures can often cause.
Working in a live school environment has its own challenges for 'taking your client with you', but the School Business Manager at this academy testified to the value of a flexible, professional team to enable her school to keep functioning whilst saving money and reducing risks.
You can find out more about SIG's support for academies on our dedicated microsite here.
St Paul's Boys School, London: Michál Cohen, Walters & Cohen Architects
The final presentation focused on the development of a general teaching building on a complex riverside site in London, and was delivered by Michál Cohen, Director at Walters & Cohens Architects.
The original St Paul's school was built in the 1960s within an estate by Powell & Moya and was constructed using the CLASP steel framed structure commonly used for school buildings at the time. Whilst the building had reached the end of its life, the project was an opportunity for the school, with the help of its design team, to review how the site worked for a modern educational environment.
After a masterplan undertaken by Patel Taylor in the 2000s, Walters & Cohen produced an in-depth brief during a six month process of engagement with the client which evolved an L-shaped block designed to ease movement around the school estate and maximise useable area.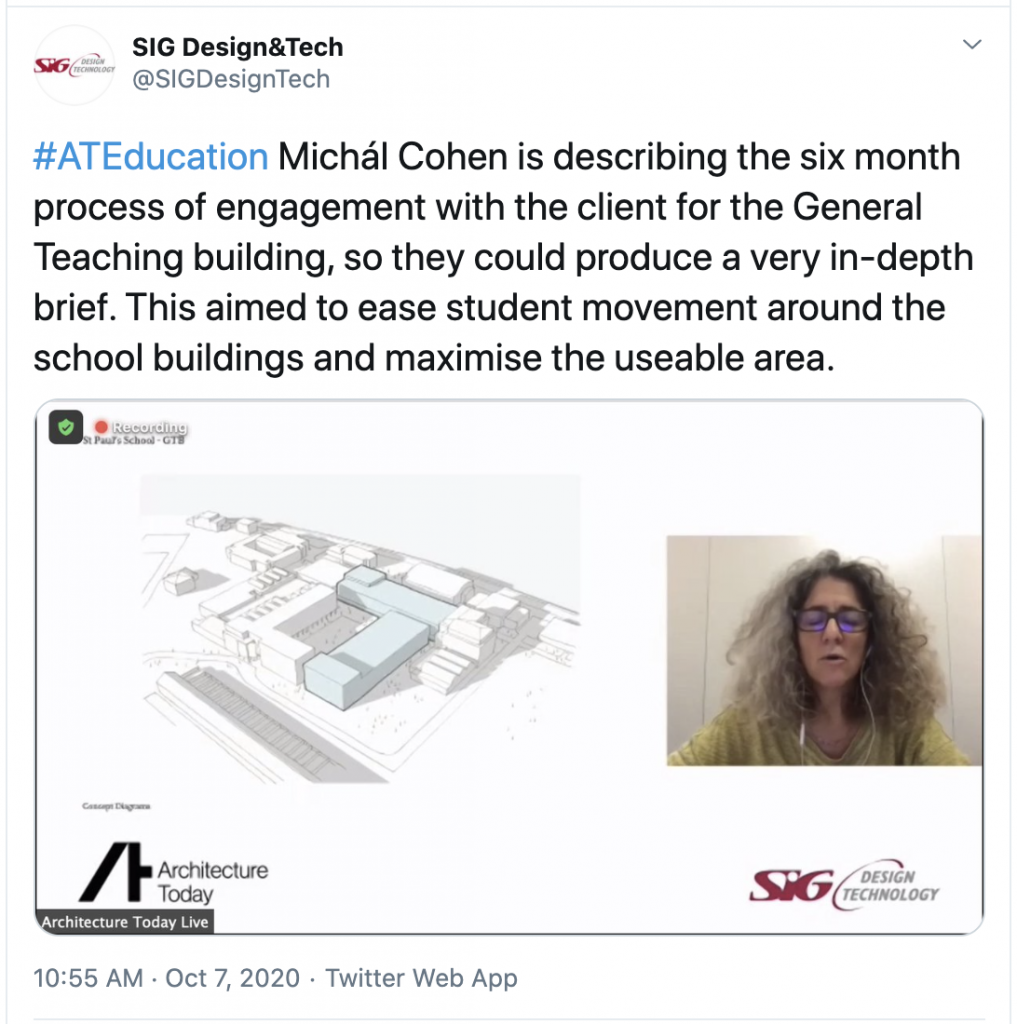 A deep plan building, the 9500m2 general teaching building is nevertheless naturally lit and ventilated. M&E was by Max Fordham. Tied into this approach was development of the surrounding landscape into exterior learning spaces.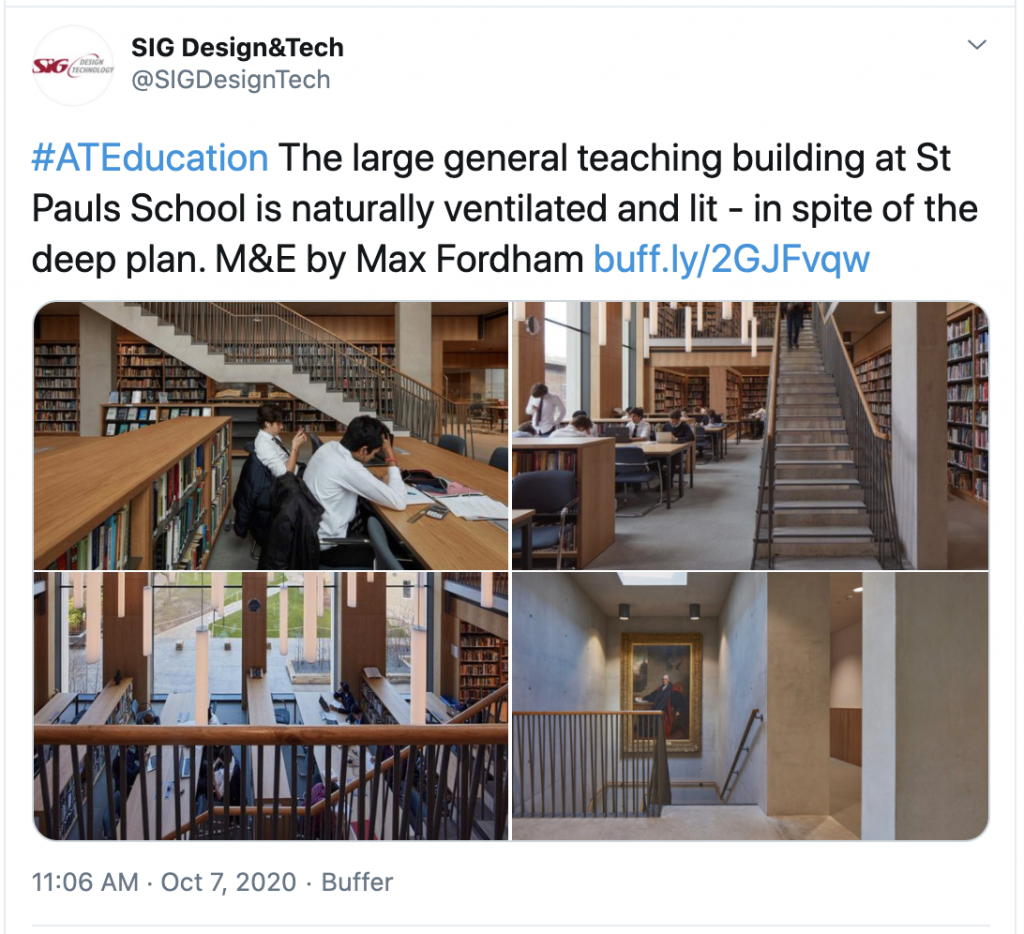 Given that this building was only completed in February 2020, a terrible time to open a school (just 2 weeks before lockdown), the approach of natural ventilation and exterior teaching spaces is incredibly timely. In order to minimise disruption during construction, the project had been completed in two phases.
The project is shortlisted for the London RIBA Awards, The Concrete Society Awards and the AIA Awards (UK Chapter).
Panel Debate
Ruth Slavid picked up various themes which threaded throughout the speaker's presentation during the lively Q&A panel. The first was the forensic analysis which each professional brought to the task, and which had led to well considered and ultimately commercially wise outcomes.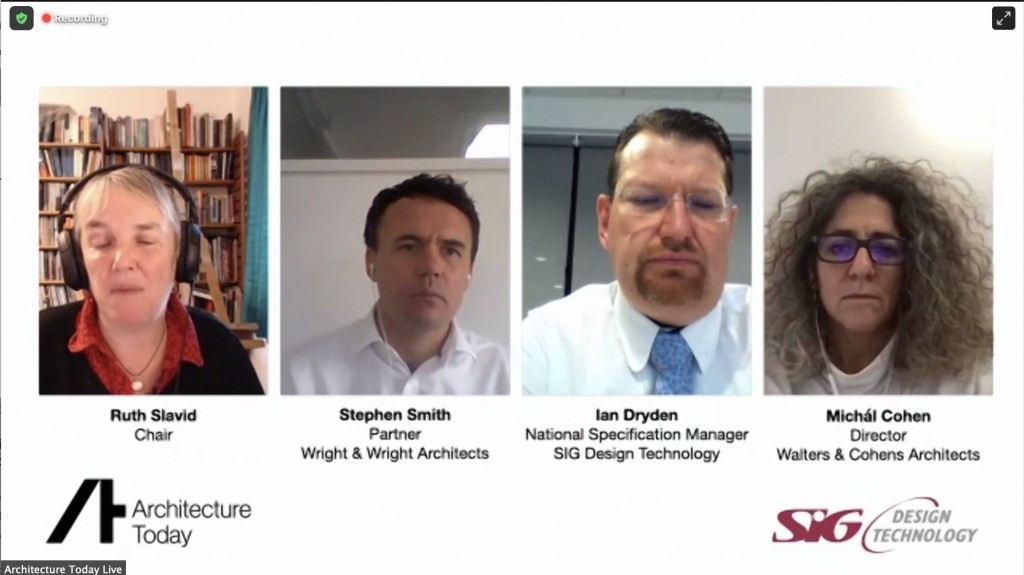 Ruth quizzed Ian Dryden about the client's need for short term solutions, and Ian explained that schools soon learn that the results are better if they are able to take, and give the time to help professionals develop the most effective solutions. The CIF Funding cycle comes round once a year, and many schools fail their bids due to lack of preparation.
Planning ahead brings a multitude of other benefits. Planned maintenance is key for an education estate, ensuring that all maintainable elements are safely accessible yet protected. Stephen Smith explained how Wright & Wright often enter into building projects at a point where maintenance issues have created a problem which the client wants to avoid in future. When maintaining an estate, long term is the approach to take.
The panel also picked up on the value of natural ventilation to provide healthier environments and cost savings, and the need for a variety of teaching and learning spaces in educational buildings. The panel agreed that it is worth asking 'what is a school for?' – academic and physical development, yes, but also a social conscience and a need to grow its students into active members of society.
If you want to watch the #ATEducation webinar online it is available free of charge here: