Eco Green Roof systems available from SIG Design & Technology
SIG Design & Technology are working with Eco Green Roofs (EGR) to provide guaranteed green roof and blue roof systems. Partnering with Eco Green Roofs allows SIG to offer a full built up system which combines expertise on both the green roofing and waterproofing under one package.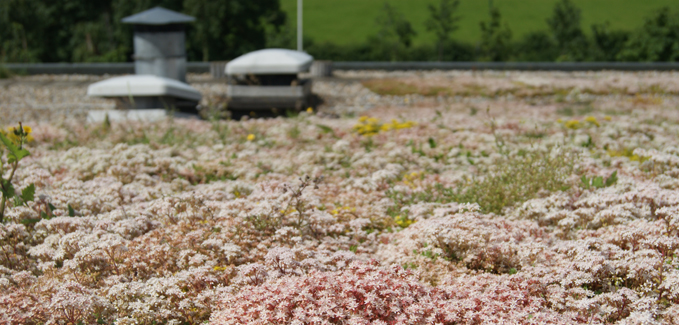 Eco Green Roof provides guaranteed systems that replicate the natural growing environment for plants. Using a wide range of sedum and wildflower plant species they create lush, vibrant, bio-diverse environments that can transform both new and refurbishment projects.
A green roof has a core function in the development of the urban landscape and every system requires careful blending to ensure its environmental capacity is suited to its location and the demands that may be laid upon it. Designing bespoke systems to meet the client's needs, Eco Green Roofs specialise in the supply and installation to ensure the sustainability of their green roofs.
SIG Design & Technology also offer optimal roofscape water management solutions with the EGR Blue Roof System. A blue roof is designed to attenuate water, typically rainfall, and release this water over a longer period of time. This eases the pressure on the drainage system particularly in times of severe rainfall.
The blue roof system has been developed by EGR's own inhouse expert and designed by Carl Harrop who has been a specialist in blue roof technology for over 15 years.
If you would like more information on Eco Green Roof systems contact SIG Design & Technology.