Doing our bit for #ourweebigbuild
After two decades of sterling work within Clackmannanshire providing play and social opportunities together with additional support for children and adults with disabilities, Play Alloa is finally moving into its very own premises.
The new building in Broad Street has a huge rear garden where three flatlets have been knocked through to create a flexible, flowing space, and this is to be joined by a large purpose built games room. SIG Design and Technology are supplying roofing materials and technical support free of charge to the games room project, which has been dubbed #ourweebigbuild by the charity.
Play Alloa is the leading provider of play and social opportunities for children and young adults with disabilities and additional support needs within Clackmannanshire. The charity provides a range of play sessions, social groups, life skills workshops and play schemes throughout the year, from its base in Alloa and a centre in Tillicoultry.
The Games Room Roof
Chartered architect, Lawrie Orr of Alloa developed a generic specification for the 85m2 bonded, warm roof build up for the games room roof and said that working with SIGD&T made the process very straightforward.
SIGD&T selected IKO's Armourplan SG PVC membrane in slate grey (RAL 7015) for the project. The fleece backed single ply is supplied in 2m widths which minimises hot welding on site without naked flames. The roof build up also comprises mechanically fixed Recticel tissue faced insulation and a PE Vapour Control layer. SIGD&T also supplied standing seam profiles to create a water check, preventing wind-driven rain being blown off the roof and onto building users.
To comply with regulations, our technical team checked local wind zones and produced wind load calculations (to BS EN 1991-1-1-4), plus COSHH and other data sheets. Our local field technician will visit site to ensure that the roof has been installed correctly and has been on hand to offer contractor Stirling Roofing technical support as necessary.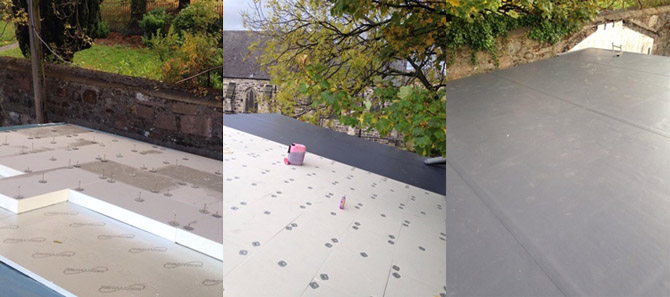 A Worthy Cause
Play Alloa's Chairman, Bob Davis said: "My own year old daughter Emily has been coming to Play Alloa practically all her life. These 'Special Young People' will really benefit from the new facilities not only at club meetings. The fully refurbished premises will also be available for parents and children to use for their own events and parties seven days a week. Many children with disabilities need the reassurance that stimulating, familiar surroundings provide. #ourweebigbuild project will provide exactly that!"
SIG Design & Technology's technical manager, Steve Cleminson said; "We're delighted to be involved in the Play Alloa project alongside our contractor colleagues to ensure #ourweebuild is a success. Alongside supplying the materials, our role is to make sure the roof at Play Alloa's games room fully complies with regulations. Like all our projects, the games room roof will also meet our '#PerfectRoof 'guidelines."
More Information
The new roof was installed this week and the project is progressing well – we hope to bring you more news when the project opens in December.
Feature Image: Play Alloa