Best Roofing Photo of the Month – May 2018
We ask our field technicians to share with us their photographs of best practice and interesting roofing projects as they travel around the UK inspecting sites worked on by our DATAC accredited contractors. However, this time we wanted to bring you a slightly different example.
May Winner: Nigel Fields
Our May Best Roofing Photo of the Month winner is Nigel Fields for this photograph taken at our Training Academy at Shepshed in Leicestershire. It shows a group of trainees working on their Armourplan Test Rig on the final day of their training session.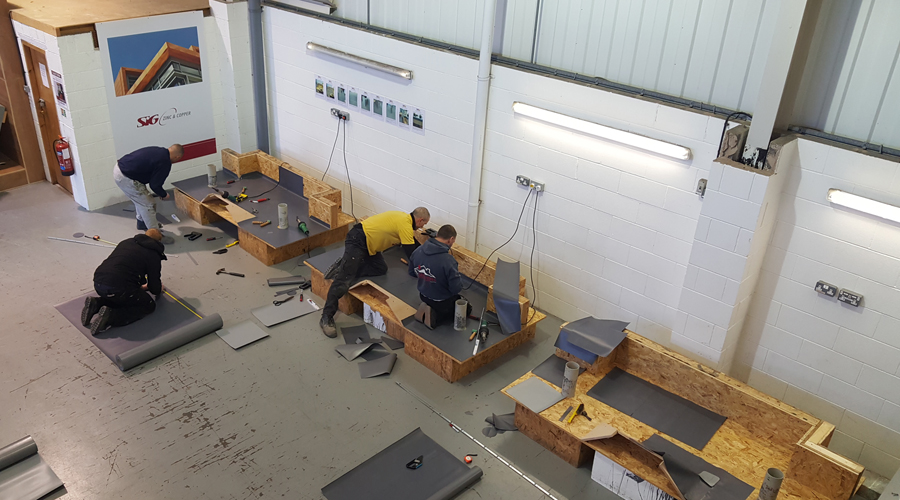 Roofing Academy Manager Sara Jelly explains about the course.
"The Armourplan course is one of our membrane courses approved by SPRA (the Single Ply Roofing Association), and recognised by CSCS (the Construction Skills Certification Scheme) under the Basic Competency Programme."

"We train hundreds of people every year, both here in Shepshed and in London, and the courses cover both theory and practical aspects of installing single ply roofs. We cover design elements, type of buildup, fixing methodologies and calculations. Trainees learn how to install the roof including a wide range of different details from internal and external corners to pipe details and outlets. There is also a written test, and trainees must successfully complete the test rig to demonstrate that they can replicate best practice.

"As well as Armourplan we train in Rhepanol and Rhenofol under this scheme, and we also train in the installation of liquid membranes including Hydrostop AH+ and PU products. The liquids courses have been developed in close co-ordination and approval of the system manufacturers."
Nigel enjoys training DATAC installers.
"The first couple of days can be a struggle as tasks increase in difficulty, but by the third day people realise how far they have progressed, and things begin to click," he says. "You can see the great sense of achievement that the trainees get by the end of the course, which is very rewarding."
The SPRA recognised membrane courses are two and a half days long, longer than the recommended minimum, which the Roofing Academy introduced two years ago. Lengthening the course has increased the number of trainees who pass and increased their confidence as they start working on site, Nigel reports. Some trainees do fail, and they are offered the opportunity to attend again at no extra charge for a second chance at passing.
Technical Director Stephen Cleminson adds that the training is just the beginning.
"Training is the start of the journey, not the end of the story. We only train people who have projects to commence so that they can take their training onto site and apply it straight away, with our support. Then once on site, they get the support and backup of the whole technical team here at SIG D&T, with regard to specifications, calculations and risk assessments, and support on site – pre-start, during and on completion. This is all part of our relationship with our DATAC accredited installers, which enables us to offer guarantees."
Nigel ends with a story about two of his recent trainees, Liam and Michael from Thomas Cassie Roofing. The company decided to train up some of its young installers in Armourplan three years ago, to allow them to offer single ply alongside their bituminous roofing service. Now Nigel believes that Liam and Michael are some of the best installers in the area.
"Achieving good practice in flat roofing is dependent on your personal attitude, but Liam and Michael show just how far you can come if you take the opportunity. This project in Leicester is a good example of the quality of their work."
More information