Best Roofing Photo of the Month – June 2018: Mansard Roof
Continuing our series of good practice in roofing, where we invite our field technicians to submit photographs they have taken of the projects they have inspected.
June Winner: Jamie Dunsmore, Mansard Roof
Our June Best Roofing Photo of the Month winner is Jamie Dunsmore who took this photograph of an Armourplan installation on a mansard roof in West Byfleet, Surrey.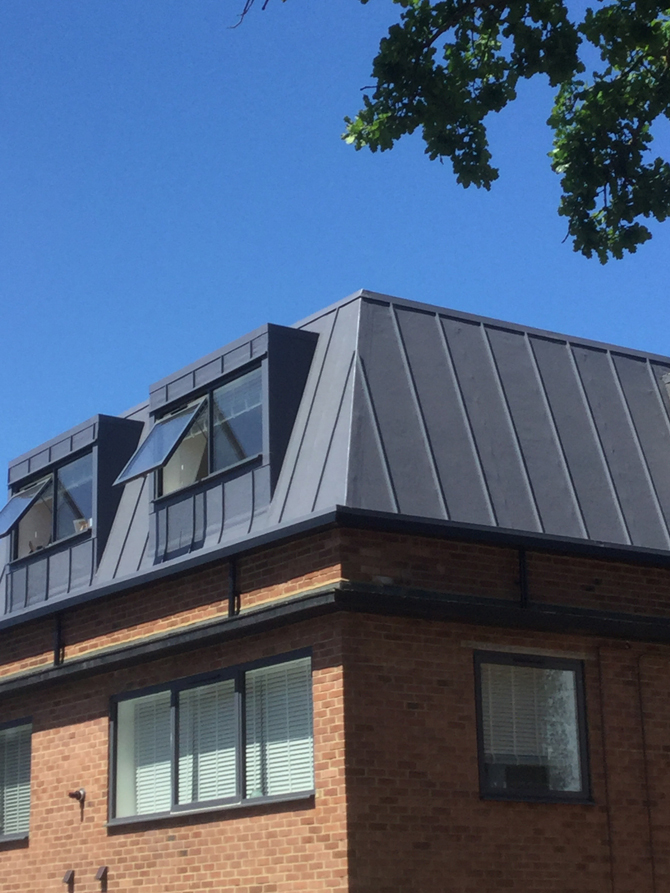 This building was formerly a commercial property and has been refurbished to provide residential accommodation, so once again appearance is important.
The project was executed by two DATAC accredited contractors, Brix Limited and All Seasons Roofing Group Limited. SIG Design & Technology were requested to attend and provide technical advice from commencement through to completion, and Jamie attended site on several occasions. The photograph above was taken about six months after completion.
The new mansard roof provides additional living space to the refurbishment, and the majority of it is constructed using a warm roof construction detail.
Two Armourplan membranes were used – Armouplan PSG and Armourplan P.
Armourplan PSG membrane was installed on the main roof, dormer tops and gutter base where it was fully adhered. Armourplan P membrane was installed to the mansard elevations, where it was contact adhered and mechanically fastened on the membrane side lap to offer a secure restraint due to the height of the membrane elevations.
"On an upstand elevation above 2m in height the membrane needs additional mechanical restraint," explains Jamie. "If you look very closely you can see a series of bumps which indicate where the pressure plates are which restrain the membrane. These are installed in accordance with the results of a wind load calculation which SIG Design & Technology carry out as part of our service. In my opinion this method gives a better appearance than the alternative restraint technique, which is a horizontal restraining bar with a cover strap detail."
Technical Support Manager Paul Jacobs is impressed with the finished result.
"The Mansard Roof is a popular style of roofing, emerging in the 16th century, widely popularised in the 17th century and making many comebacks since then. A mansard roof allows the attic space to be turned into a useable interior space, whilst keeping the overall profile of the building low. To allow light into these areas, dormers are usually formed, as can be seen here.

"This project is an excellent example of how this form of pitched roof can be made watertight with Armourplan PVC membrane, and by adding the standing seam profiles, the vertical roof area is pleasing to the eye"
More information