Extensive Green Roofs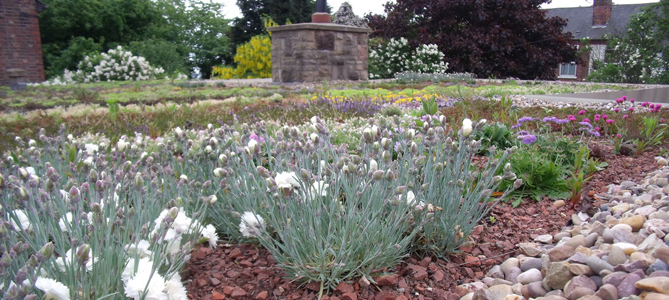 Designed to reap the benefits that green roofs offer but at minimal cost and with very little maintenance. Extensive green roofs are the most common type and characteristically consist of a shallow layer of growing media; typically between 60mm and 120mm deep. This is planted with a variety of drought tolerant hardy plants. Their lighter weight makes them suitable for use in both new and refurbishment roof construction.
Extensive green roofs are relatively self-sufficient; they are not designed or constructed with the intention of being trafficked by pedestrians. Whilst not providing any kind of amenity area they do contribute to improving air quality, reducing the visual impact of the roof and assist in controlling rain water run-off/ harvesting as well as contributing to the acoustic and thermal properties of the roof.
Because access to the roof tends to be limited other than for annual maintenance, the choice of vegetation should be selected with this in mind with low maintenance planting such as sedums and indigenous species recommended.
To deliver extensive green roofs SIG Design & Technology partner with ABG to deliver horticulturally engineered green roofing system.
Contact Us About This Product