Green Roof Kit a hit with Architects
Dozens of architects across the UK have requested one of our Green Roof Trial Kits – a living, extensive sedum roof sample, perfect for demonstrating how green roofs work to their clients.
Many of the kits have already been delivered. If you haven't got yours yet, not to worry, it'll be on its way in the next few weeks.
Remember its only one kit per practice, and we're not sending them out to roofing contractors, but feel free to get in touch if you'd like to know more about green roofs. You can also find out more on the Green Roofs section of this site.
We've been getting cheerful tweet messages back from some of the architects about their kits – like this from John Lancaster up in Scotland: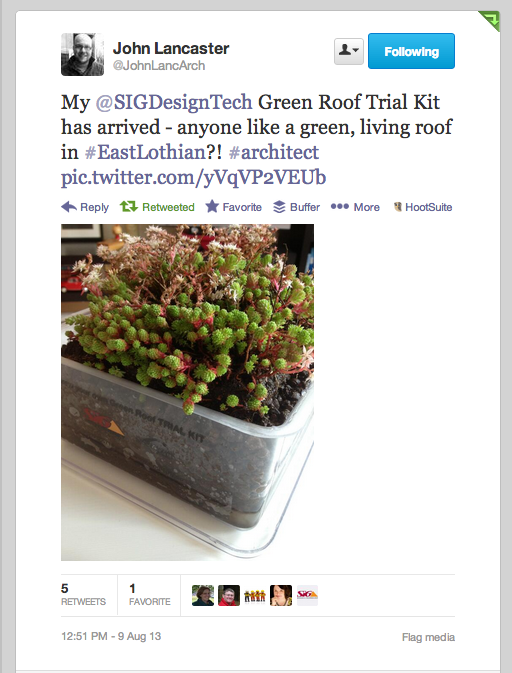 When you get your kit, why not tweet us a photo too? Just include our @SIGDesignTech twitter handle in the message. You can also use the #GreenRoofKit hashtag. We'll share your photos on.
Twitter is proving a very useful tool for architects and specifiers to get in touch about their quick questions. Here's Civil Engineer Will Butcher asking about using green roofing systems on bridges: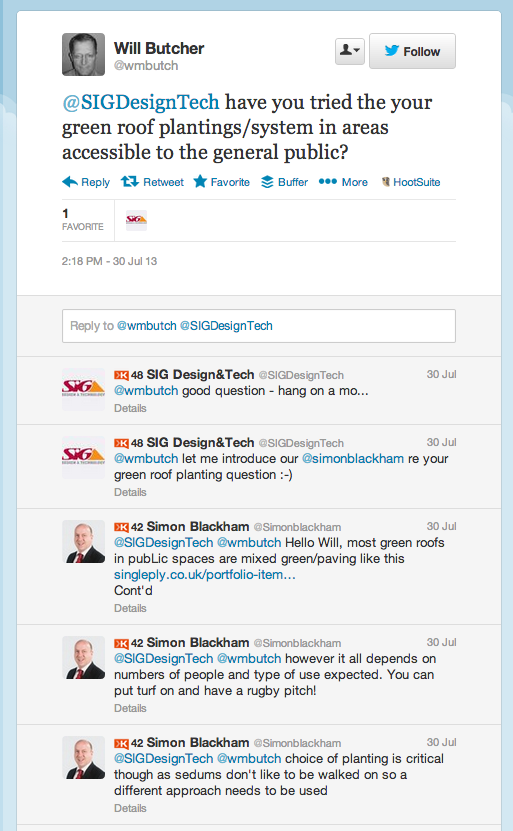 We've also had recent enquiries via twitter for our Zinc Samples, requests for local specialists and DATAC roofing contractors.
Of course, if you'd rather get in touch with us via the usual channels, feel free to use our contact form, ring the technical team on 0844 4434778 or our general number on 01509 505714
In the meantime, if you're an architect practice in the UK, and would like to show your clients what a sedum roof looks like, request our green roof kit here.