Free Green Roof Trial Kit – a Living, Extensive Sedum Roof Sample
Architect subscribers to our Roof Design Technical Blog are being offered a free, living Green Roof Trial Kit for their office, to help them demonstrate the beauty and value of an extensive green sedum roof.
Helping you recommend a Green Roof
Green roofs are a brilliant way to add value to the 5th elevation, but many clients don't have experience of them in the flesh and are sceptical. To help architects demonstrate the value of an extensive green roof to their clients, SIG Design & Technology are offering a free Living Green Roof Trial Kit.
Why use a Green Roof?
A green roof provides a wide range of benefits including:
Improved BREEAM credit scores (contributes to 7 credits);
Contribution to Sustainable Urban Drainage (SUDS);
Contribution to biodiversity by encouraging wildlife;
Improved Energy Efficiency in Warm Roof construction;
Improved Sound Insulation by as much as 8dB;
Improved life expectancy of the waterproofing membrane; performance of Solar PVs;
Assistance in obtaining Planning Consent.
Your Green Roof Kit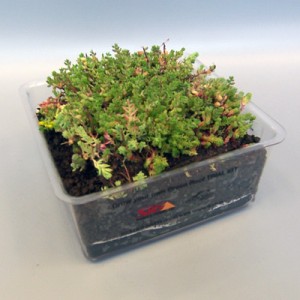 A Green Roof Trial Kit from SIG Design & Technology
Demonstrates how a Built-up Green Roof works;
Shows clients and colleagues how it will look in situ;
Has a fully grown sedum layer for instant greening;
Is easy to maintain – simply keep moist and in full light (ideally outside).
Green Roof Kits are built using the Blackdown Built-up Green Roof System, grown and assembled in the UK. The kit includes a fully-grown sedum layer, growing medium and engineered substrate layers in a bespoke growing box, delivered and assembled at your office, ready to use.
How to get a Green Roof Trial Kit
To get a green roof trial kit for your office, simply click here and fill in the form.


I'd like a Green Roof Trial Kit